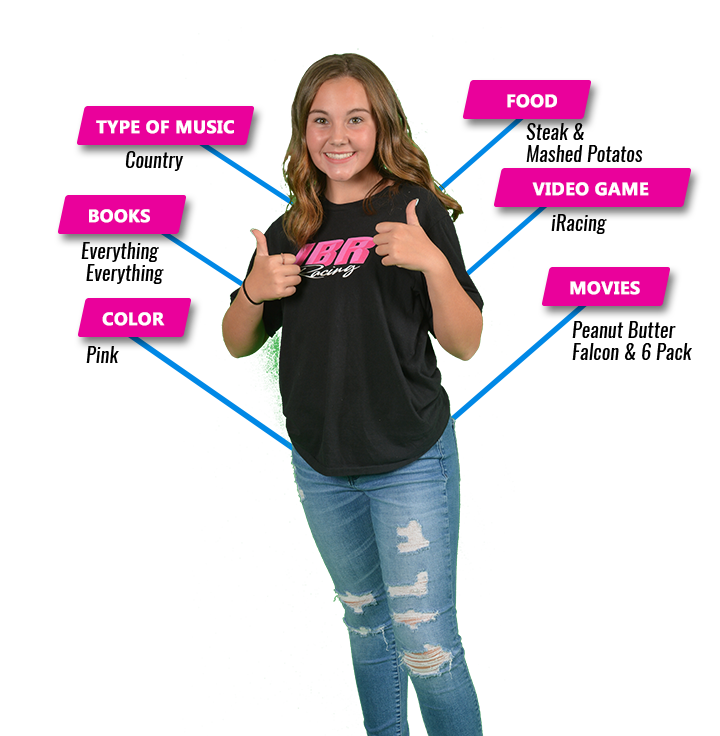 AGE: 15 
HOMETOWN:  Snohomish, WA
Haley started racing in 2009 in Mini Karts at Puget Sound Go Karting Association and other tracks around the Pacific Northwest area.  She quickly started bringing home championships with her first in 2013 Mini Karts Indoor.  In 2013 she was also Most Improved Driver, Driver's choice Sportsman of the Year and Fan's Choice Sportsman of the Year at Deming Speedway.  That same year she won an all expense paid trip to meet Kasey Kahne and attend the Phoenix International NASCAR race.  Haley continued to excel with awards and championships.  In 2017 she moved to 600 Micro Sprints and Hornets.  In 2018 she had 5 wins out of 8 races in her Youth Hornet.  In 2019 she had 4 wins out of 9 races.  She also received a Most Inspirational Award from Evergreen Speedway.
In 2020 Haley raced in the Mountain Dew Jr. Late Model Series as well as most of the Youth Hornet races at Evergreen Speedway and she also raced her 600 Restricted Micro Sprint at Deming Speedway.  She competed for the first time at the prestigious 2020 Tulsa Shootout and learned a lot this year and is looking forward to next year.  She finished her 2020 season with 4 top 5s and 5 top 10s in the Mtn. Dew Jr. Late Model Series, 4 top 5s in the Jr. Hornet and 8 top 5s in her 600 Micro Sprint.
In 2021 she will return to the Mt. Dew Jr. Late Model Series, Deming Speedway in her 600 Micro Sprint, and to Evergreen Speedway in a Pro-Late Model.     
JOIN HALEY ON SOCIAL MEDIA
HALEY CONSTANCE RACING TEAM MISSION
It is our mission at Haley Constance Racing to consistently perform as a driver, team and positive role models while empowering others along the way. It is our priority to always give it our best and not lose sight of key stakeholders- our sponsors and fans. We strongly believe exuding respect and sportsmanship on and off the track is crucial to winning races. By setting goals and staying true to our values we look forward to continuing our journey to racing NASCAR.